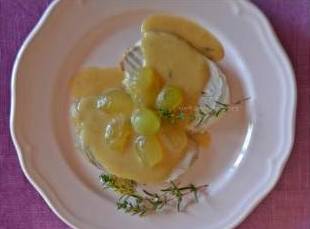 Milk pork loin with grapes and rosemary
Ingredients (for 8 people)
1 kg of pork loin
1 onion
1 carrot
1 bay leaf
5 juniper berries
1 pinch of nutmeg
1/2 liter of milk
1 sprig of rosemary
1/2 kg of white grapes of which: 2/3 handfuls of berries to decorate the rest for grape juice
2 tablespoons of corn starch (if necessary to make the sauce)
Preparation:
Thinly slice the onion and carrot, wash the rosemary and bay leaves and fry them for a few minutes over high heat in a high-sided saucepan (I have a cast iron one).
Now add the pork loin and seal it well, on both sides, until it forms a nice golden crust. In the meantime, wash the grapes well.
Set aside a few berries to decorate, and squeeze the rest of the berries with the help of a potato masher, in order to obtain the juice.
When the loin is golden on all sides, blend with the grape juice, wait a few minutes for it to evaporate and then lower the heat to low, add the nutmeg and milk and cover until cooked.
I let it cook for about an hour, to reduce the cooking sauce.
Let the arista cool well.
Once the roast has cooled, separate it from its sauce and place it in the fridge, because when it is cold it will be easier to slice. At the time of serving I pulled the sauce well.
First I removed the rosemary needles, the juniper and the bay leaf and then I narrowed the cooking juices a little more.
Put a few ladles of the sauce in a pan and with the help of a whisk gradually add all the corn starch, always stirring until it is well blended.
Now gradually add the rest of the sauce while continuing to mix, keeping the heat to a minimum until the sauce has thickened.
Peel and seed the grapes set aside, cut them in half and add them to the sauce just before serving.
Thinly slice the roast, heat it and garnish with the sauce and grapes.
Go back