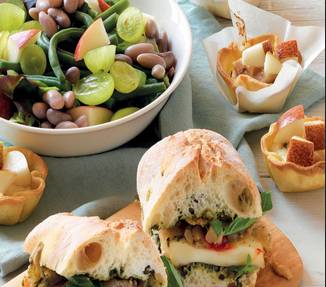 Salad of fresh Pinto beans, green beans and grapes
Ingredients (for 4 people)
green beans 400 gr
fresh Pinto beans 200 g
lettuce 100 gr
apple 1 pcs
White grapes
extra virgin olive oil
salt
Preparation
Boil the Pinto beans in boiling water for 10-12 minutes. Turn off, salt and leave to cool in the cooking water.
 Say the green beans and snack them for 7-8 minutes.
 Cut the sliced apple. Cut in half the berries of grapes.
Collect all the ingredients in a bowl with the broken lettuce, seasoned with salt and oil and serve immediately.
Go back