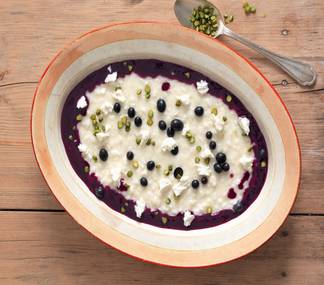 Small strawberry-grapes risotto with pistachios and primo sale cheese
Ingredients (for 4 people)
vegetable broth 1 l
strawberry-grapes 420 g
carnarol rice 320 g
primo sale cheese 280 g
butter 80 g
grated Grana cheese 40 g
peeled pistachio 20 Pz
maize starch
white vinegar
salt
Preparation
Cut half the strawberry- grapes (keep someone else for decoration), pick them in a saucepan, put on fire, cover and cook for 20 minutes. Blend the berries in the blender at the minimum speed and then pass to the sieve to remove the grapeseeds (strawberry-grapes pastry).
Dilute 4 g of corn starch in cold water. Put on the fire the strawberry-grapes pastry and, when it has reached the boil, turn off, mix the diluted corn starch and mix until it is completely dissolved (strawberry-grapes reduction).
Grate roughly the primo sale cheese. Roast the rice for less than 1 minute in fat-free casserole, then start to wet with vegetable broth until cooked risotto in 16-18 minutes.
Shut off with butter, grana cheese and 3/4 of the grated primo sale cheese. Complete with a splash of vinegar and adjust salt if needed.
Grate roughly the pistachios. Serve the rice with the strawberry-grapes reduction, the berries kept aside, the rest of the primo sale cheese and chopped pistachios.
Go back