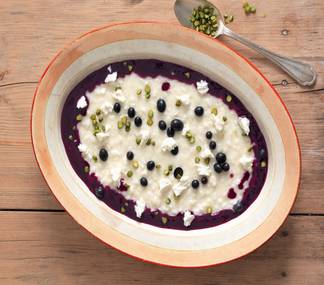 Strawberry-grapes risotto with pistachios and primo sale cheese
Ingredients (for 4 people)
vegetable broth 1 l
strawberry-grapes 420 g
carnaroli rice 320 g
primo sale cheese 280 g
butter 80 g
grated parmesan 40 g
peeled pistachios 20 pcs
cornstarch
white wine vinegar
salt
Preparation
Cut the strawberry grapes in half (set aside some whole for decoration), collect them in a saucepan, bring to the stove, cover and cook for 20 '. Blend the berries in the blender at minimum speed and then pass through a sieve to remove the seeds (strawberry grape puree).
Dilute 4 g of cornstarch in a little cold water. Return the strawberry grape purée to the heat and, when it reaches a boil, turn off, add the diluted corn starch and stir until it is perfectly dissolved (strawberry grape restricted).
Coarsely grate the first salt. Toast the rice for less than 1 'in a fat-free casserole, then start adding vegetable broth until the risotto is cooked in 16-18'.
Turn off the heat and stir in the butter, parmesan and 3/4 of the first grated salt. Complete with a sprinkle of vinegar and season with salt if needed.
Coarsely chop the pistachios. Serve the rice with the strawberry grape sauce, the berries kept aside, the rest of the first salt and the chopped pistachios.
Go back