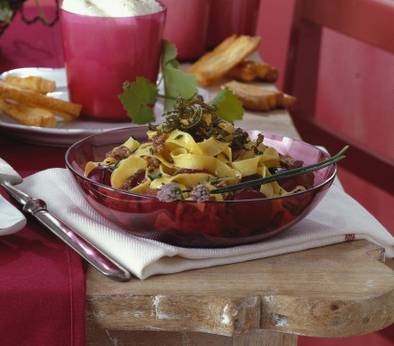 Tagliatelle with grapes and sausage
Ingredients
• 250 gr egg paste
• 150 gr of pink grapes
• 250 gr of pork sausage
• 2 thyme sprigs
• 5 glasses of white wine
• 2 vines leaves
• extravirgin olive oil
• black pepper
• salt
Preparation
Wash the grapes, dry them and cut the largest in half. Peel the sausage, cut it into chunks and brown it for about 5 minutes in a non-stick pan with 4 tablespoons of oil. As soon as it starts to sizzle, pour the 1/2 glass of white wine and let it evaporate a little. At this point, add the thyme leaves, a nice pinch of salt and the grapes. Then continue cooking over low heat for about 15 minutes.
Cut the vine leaves into very thin strips after having washed them carefully (they must be untreated, so be careful of those that you find attached to the bunches). Fry this julienne of leaves for a few minutes in hot oil, drain and keep it warm. Meanwhile, boil plenty of lightly salted water and boil the noodles.
Drain the pasta al dente, pour it into the pan with the sausage and grape sauce and mix it. Put it on plates and decorate with the fried leaves julienne and a grind of black pepper.
Go back