Certifications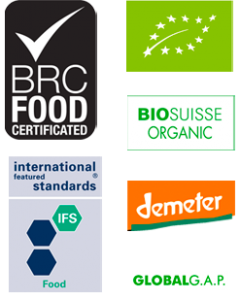 The CCPB (Organic Production Standard Committee) regularly checks that our system of production complies with the latest EU regulations. The strict adherence to this standard constitute a customer guarantee by itself.
In addition, the Group is certified BIO SUISSE and DEMETER, which are both relevant international certifications for organic products.
EUREPGAP and GRASP certificates confirm compliance to good agricultural practice as well as ensuring that ethically the company meets the needs for the workers.
The Tarulli OP Group has obtained, with excellent results, the most important quality certifications: BRC and IFS, which satisfy the requests of the most attentive and demanding customers.
All certification and details are available on our site; please request login details.
Log In