Certifications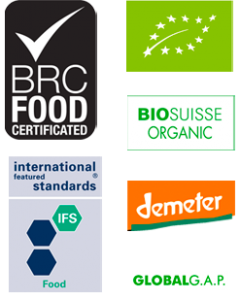 CCPB monitor the compliance to our biological systems in conjunction with the latest EU regulations. These regulations are respected to ensure customer guarantee.
In addition, the Group is certified to BIO SUISSE and DEMETER which are further Biological certifications.
EUREPGAP and GRASP certificates confirm compliance to good agricultural practice as well as ensuring that ethically the company meet the needs for the workers.

The Tarulli OP Group has achieved an excellent grade towards production certifications including BRC and IFS; this ensures that we can meet the high demands of our customer base.

All certification and details are available on our site; please request login details.
Log In